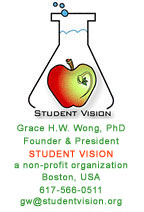 Planting the seeds for science
For New York Academy of Sciences
an eBriefing - Careers in Bioscience Research: Where Do You Fit In?
Grace Wong, PhD
Grace Wong is founder and chief scientific officer of ActoKine Therapeutics and founder of Student Vision.
Planting the seeds for science
"I never dreamt I would be a scientist," said Grace Wong, chief scientific officer of ActoKine Therapeutics and President of Student Vision, an organization dedicated to helping students and young scientists with their careers in biotechnology. Abandoned as a child in China, Grace likens herself to "a little seed, without soil or water" that would have most likely ended up on the street, or worse. However, young Grace was fortunate, and she escaped across the ocean from China to Hong Kong, where she went to school and discovered that she had a strong aptitude for science. She fell under the influence of good mentors, and with the help of scholarships and hard work, she eventually found her way to Australia, where she studied for her Master's degree at the Monash Medical School and her Ph.D. at The Walter and Eliza Hall Institute of Medical Research in Melbourne working on cytokines and CNS diseases.

In USA, Grace went to Genentech as a postdoc with Dr. David Goeddel working on cytokines and cancer. Knowing little or nothing about industry, and there again, she attributes her success to good mentors. After advancing basic research discoveries to product development at Genentech, Grace then went on to Millennium Pharmaceuticals, where in 1996 she became head of apoptosis research working on cytokine genomics, and then to AstraZeneca as a section head of Molecular Genetics for cytokines and Alzheimer's disease. When AstraZeneca moved to Delaware, she became the head of functional genomics at Serono, working on cytokines, infertility and obesity.

Perhaps as a consequence of her early life, Dr. Wong has a very strong sense of community. In order to integrate this spirit with her professional efforts, Dr. Wong took a bold step in 2003; she founded two new companies: Actokine Therapeutics for discovery of antiviral and radioprotective drugs, and Student Vision for inspiring students of all ages in biotechnology. Her goal is to build a bridge for research innovation between academia and biotech/pharma industry, from USA to HK-China.

"My vision is to help students of all ages at the same time as we advance our drug discovery research. We will share data, reagents, and even intellectual property rights, if you want, as long as we all work together to make a drug for everyone," she said.

ActoKine Therapeutics is built around Grace's expertise in cytokine research and their new therapeutic application in cancer treatments and biodefense projects (radioprotection against dirty bomb and protection against a broad spectrum of virus infection). Her long-term goal is to discover small molecule drugs that mimic cytokines to treat different diseases. "My key to success is nothing new: working hard, working hard, working hard," she said. "People think I'm smart, creative and always out-of the-box, but I'm not really that smart. I'm just average, for a scientist. I just work hard, nothing else. But I do enjoy seeing and creating things differently from others"

Dr. Wong's career advice is straightforward; "it's all about the P's".

"Your publications, patents, positions held and personal contacts are your foundation," said Wong, but in the end it's the science that matters. "Everything else goes away, but your CV, your publications, and your patents will be there even after you die.

Her advice for finding the right job in industry consists of these three main steps: build your skills, identify what skills you have that employers need, then demonstrate and promote your skills.

Build skills. Skills are a prerequisite to successful networking. "If you have an empty store what can you sell?" said Wong. "With no substance, even good friends can't hire you." Explore opportunities to develop new skills whenever you can and everyday you learn something new.

"Become wiser today than you were yesterday," said Wong. Learn from everyone and be willing to listen to advice. "I always like to talk to people who have different professional experiences," she said, "because they know a lot of things I don't and I can learn from them."

Work on projects that really interest you, rather than chasing areas you think will make money, but be an expert in a certain area. "Take a temporary job. Volunteer to work even with no pay," said Wong. You'll gain valuable experience and skills (which will stay with you) which can be better than money. At best, though, once you get in and show what you can do, they will hire you.

Identify your skills. "You need to know what your skills are so you can be useful to others," said Wong. Identify which skills to sell. "It's very difficult to get anyone who can make good RNA. So if you can make RNA, you can get a job very quickly," said Wong. Think about how your skills can help the company make products.

Promote yourself. A good mentor is important and can open doors. "Particularly if they're famous, if they're successful," said Wong. "People may not know you and may not trust you, but they trust your mentor." Be loyal to your mentor, your friends, and your boss. "Don't just be nice to them because you want a job and then forget them, be nice to them long term," said Wong. "If you help people, just enjoy giving and helping them without any expectation of personal benefit. "Write your name in kindness and your name will not be forgotten. Good people always come back to help you."

Participate. Submit abstracts, give seminars, ask good questions at seminars, and collaborate with people in industry to make yourself visible and known to others.

Network. Personal introductions by mentors and friends increase your network of contacts. Stay in contact with the new people you meet before they forget you. Meet speakers and ask them for their advice and slides, educate yourself about their work and look for common interests.

"Collecting business cards is more important than giving yours—as many as possible," said Wong. Unlike academics, you won't find industry scientists' contact information on the Internet. Referring to her co-panelists, she said, "With Scott and Amar you already have a foot in the door. Don't let them go without taking their business cards."

Make direct contact with industry scientists and send them your CV. "They are the drivers. They are your champions for getting inside the door of industry. Don't underestimate the power of a positive attitude. Be excited and passionate. And finally, don't underestimate the power of a smile and a positive attitude. "Be happy," said Wong. "If you're miserable, people will not want to hire you. Be genuinely cheerful. As Scott said, be really excited and passionate about your work."

"As a scientist, you can't control politics but what you can control is to create power from a test tube, meaning that it is the science you do at the bench that will ultimately be the key to your success. Publish your results and file patents. Then, when you meet people, you can promote yourself based on your demonstrated abilities not just hot air", said Wong. "But in the end, whether you get the job is not for you to decide. All you can decide is to plant the seeds."